Next Wednesday June 29th come celebrate the legendary grammy nominated artist Monie Love's birthday party where she will perform all those hit tracks. If you love Old Skool Hip Hop you don't wanna miss this live performance and "The Show" with dj's Selfborn, A Fly Guy & Johnny Walker at The Stage 170 NE 38 St. NO COVER
Every Wednesday The Stage (located in the Design District; 170 NE 38th Street) will be hosting the "Show of the Year" party every Wednesday at 10 p.m. Guests can expect to experience the best in old school, hip hop, funk and soul from the 70's, 80's and 90's from famed DJ's including DJ Self Born a.k.a. "The Most Magnificent & The Most Humble DJ On The Planet;" DJ Fly Guy a.k.a "Mr. Music & Style & Charm;" and New York's DJ Johnny Walker Red. Arrive, pay no cover, and be taken back a few decades. The ambiance will definitely feel like the "good ol' days." Since this is Miami, the show will go on until 5 a.m. Get ready for a new twist to your week and bring your friends along for the ride!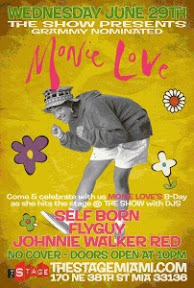 - Posted from The Stage!